Volar Rim Plate For Distal Radius Fractures Involving The Volar Rim
Amir R. Kachooei, MD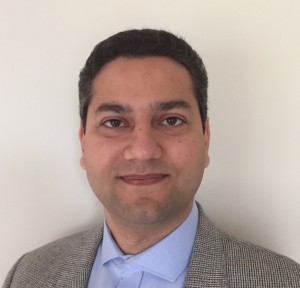 Mashhad University of Medical Sciences, Mashhad, Iran
Massachusetts General Hospital, Harvard Medical School, Boston, USA
                                  The 2.4-mm Variable Angle LCP Volar Rim Distal Radius Plate (VRP) was designed for fractures of the volar rim with large fracture fragments or multiple fragments. The distal aspect of the plate sits slightly over the volar rim of the distal radius and shaped to fit the contours of the anatomy of the lunate and scaphoid facets[Figures 1 & 2]. The orientation of the variable angle screw holes directs the screws in a proximal direction, thus avoiding entrance into the radiocarpal joint[Figures 3 & 4]. The implant has a radial and ulnar phalange that allows additional fixation of the radial styloid and lunate facet fracture.
                                   The volar plate is designed to extend distal to the watershed area. This design feature allows the variable angle locking screws to capture distal fragments with low risk of failure(1). This implant can be used with all low-lying distal radius fracture, including types 23A, 23B, and 23C, where achieving anatomic reduction and preserving the joint surface are challenging with a more traditional plate[Figures 3 & 4].
                                 Quantitative three-dimensional computed tomography studies have shown that 16% of the lunate facet project anteriorly from the flat surface of the radius(2). This bony projection has a mean thickness of 5 mm and width of 19 mm. Its small size makes it difficult to secure when fractured. In addition, a small volar fragment is the only known predictor of fixation failure and volar carpal subluxation after fixation. The risk of failure is greatest when the initial subsidence is greater than 5 mm or volar fragment is less than 15 mm in length. Small fragments can also rotate. Penetrating devices including Kirschner wire or screws may fragment or devascularize the fractured fragment, while conventional buttress plates are unable to secure the fragment. For these rotationally unstable fragments, wire loop technique is an alternative option with satisfactory results(3). The VRP described here and surgical technique offers another solution for isolated volar rim fractures and fractures with the involvement of the volar rim as part of a complex fracture. It yields satisfactory postsurgical outcomes, catches distal fracture fragments, preserves articular cartilage, and is easy to use.
                                   In our experience, volar rim plates give an adequate buttress of the volar radius distal to volar projection of the lunate facet and do not interfere with wrist mobility. Furthermore, the dorsal fragments can be fixed securely through the volar approach eliminating the need for a secondary posterior incision. However, patients should be informed of the potential problems with the implants going over the distal volar rim including tendon irritation, interference with wrist motion, and intra-articular penetration of the screws, and thus the need to remove the implant if symptoms develop(4).
                                  In our cohort, all volar rim fractures (AO/OTA type 23B3), simple radius fracture (AO/OTA type 23A2.2), and complete articular fractures (AO/OTA type 23C.x) healed.
                                  Of the 3 patients with isolated volar rim fractures (type 23B3) that were fixed with VA-LCP, two patients had no detectable deficits on clinical exam or radiograph. One patient with a large fragment volar rim fracture (AO/OTA type B3.2) healed with limited flexion and extension, 30 degrees in palmar- and dorsiflexion after 9 month of follow-up. These patients had an average Gartland and Werley score of 9 and ranged between 2 and 14. One patient (AO/OTA type 23B3.3) had an excellent outcome and two (AO/OTA type 23B3.2) had fair outcomes after treatment as scored by the Gartland and Werley categorical rating.
                                 Other seven patients (6 with type 23C and 1 with type 23A fracture) had fractures fixed with a VRP. Three patients healed with full range of motion and four had some deficits in range of motion. Two patients had excellent results, three had good results, and two had fair results using the Gartland and Werley categorical rating. One patient healed with a shortened radius and ulnar impingement requiring a second surgery for ulnar head resection arthroplasty.
Ref:
Kachooei AR, Tarabochia M, Jupiter JB. Distal Radius Volar Rim Fracture Fixation Using DePuy-Synthes Volar Rim Plate. J Wrist Surg. 2016;5(1):2-8.
Andermahr J, Lozano-Calderon S, Trafton T, Crisco JJ, Ring D. The volar extension of the lunate facet of the distal radius: a quantitative anatomic study. J Hand Surg Am. 2006;31(6):892-5.
Harness NG, Jupiter JB, Orbay JL, Raskin KB, Fernandez DL. Loss of fixation of the volar lunate facet fragment in fractures of the distal part of the radius. J Bone Joint Surg Am. 2004;86-A(9):1900-8.
Kachooei AR, Chase SM, Jupiter JB. Outcome Assessment after Aptis Distal Radioulnar Joint (DRUJ) Implant Arthroplasty. Arch Bone Jt Surg. 2014;2(3):180-4.