Quality of life of patients with fibrodysplasia ossificans progressiva
Ortiz-Agapito F, Colmenares-Bonilla D. Quality of life of patients with fibrodysplasia ossificans progressiva.
Journal of Children's Orthopaedics. 2015;9(6):489-493.
 Dr. Douglas Colmenares Bonilla
Cirujano Ortopedista y Traumatólogo Pediatra
SOCIEDAD MEXICANA DE ORTOPEDIA PEDIATRICA
Hospital Regional de Alta Especialidad del Bajìo
Hospital Angeles Leon
MEXICO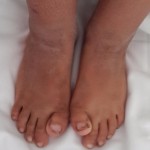 Fibrodysplasia ossificans progressiva (FOP) is a rare disorder characterized for episodes of soft tissue ossification secondary to trauma or minimum aggression.
The ossification cascade with a subcutaneous nodule is usually initiated, followed by a progressive and painful ossification concluding with an characteristic exoskeleton with mature bone.
The pattern of this ossification goes from center to the periphery and from head to foot. It has an autosomal recessive inheritance by alteration in the ACVR1 gene, but most cases are de novo mutations.
Misdiagnosis is the rule in the patient undergoing multiple diagnostic procedures that accelerate the pace of ossification and deteriorate their quality of life. 
The diagnosis is clinical and includes only the deformation of the first toe of the foot (varus, brachisymphalangism) with the characteristic pattern of progressive ossification  and secondary immobility. There is no need for invasive tests such as biopsies or punctures, which would aggravate their condition.
The quality of life of these patients deteriorates with advancing his illness because there is still no specific treatment.
Most patients are diagnosed after adolescence (mean 17.6 years), despite having symptoms started from 3 years on average. Most of them have been part of medical treatments and diagnostics that have only worsened his condition. There are no changes in any laboratory parameter.
The physical function of patients deteriorates according assessment scales as SF36. Functional results show that while ossification progresses, the function deteriorates, without ever reaching the minimum values for the general population.
The emotional role is not affected, because patients believe they are not sick, but eventually lose their capacity for mobility and autonomy, with no impact on their mood.
There is very close relationship between the worst functional values and restriction of mobility, but there is no relationship between functional impairment and mood; unless it is in active phase of the disease.
The death of patients with FOP will be secondary to the primary limitation for activities such as feeding and hygiene, leading to malnutrition, pneumonia and cardiopulmonary failure, generally at fourth decade of life.
Subm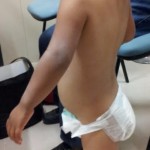 itted by:
Dr. Douglas Colmenares Bonilla
Cirujano Ortopedista y Traumatólogo Pediatra
SOCIEDAD MEXICANA DE ORTOPEDIA PEDIATRICA
Hospital Regional de Alta Especialidad del Bajìo
Hospital Angeles Leon
Full Text: http://link.springer.com/article/10.1007/s11832-015-0704-6