Laheri, V., Chaudhary, K., Rathod, A., Bapat, M. . Anterior transoral atlantoaxial release and posterior instrumented fusion for irreducible congenital basilar invagination. European Spine Journal. December 2015, Volume 24, Issue 12, pp 2977-2985
There are two ways to achieve neural decompression in a patient with atlanto-axial dislocation.
o Anatomically realign the craniovertebral junction (CVJ)
o Excise the offending anatomical structure. (e.g. odontoidectomy) – for irreducible atlanto-axial dislocation (IAAD).
Authors have questioned the concept of irreducibility, stating that it is possible surgically to reduce apparently "irreducible" dislocations by facetal manipulation and release.
Wang et al. have proposed an anterior transoral approach for facetal release and reduction of IAA. The release of anteriorly bow-strung ligamentous structures in the concavity of the craniovertebral kyphosis allows re-positioning of the atlanto-axial complex.
We present consecutive series of fifteen patients with irreducible congenital basilar invagination treated by the Wang's procedure of transoral anterior release and posterior instrumentation. The odontoid was preserved in all cases.
– All patients presented with myelopathy.
– Basilar Invagination was defined as proximal of 7mm or more of odontoid tip above the McGregor line on sagittally reconstructed CT scan (Type A basilar invagination as classified by Goel et al)
– Dislocation was treated as irreducible, if acceptable reduction (odontoid tip below Wackenheim's line) was not achieved with traction under general anesthesia and neuro-muscular paralysis.
– Aim of the reduction was to restored cervicomedullary angle to more than 135 degrees without any residual ventral or dorsal compression on the spinal cord with the odontoid tip below the McGregor and Wackenheim's line.
The congenital malformations noted were: C1 assimilation in fourteen, condylar hypoplasia in ten, C2-3 fusions in eight, C2-C4 fusion in one, Klippel-Feil syndrome in three, Chiari malformation in two, malformed odontoid in 2, and incomplete ring of C1 in one.
Mean age was 21.4 (10-50) years.
Average duration of follow up was 28 (24?40) months.
The average preoperative JOA score was 11.4 (8-16), which improved to 15.4 (10-18) after surgery.
Anatomical reduction was achieved in thirteen patients.
We believe that a significant number of irreducible dislocations can be anatomically reduced with this procedure thus avoiding odontoid excision.
Surgical technique:
Traction, under anesthesia and complete neuromuscular paralysis
Anterior release: Crockard transoral retractor system provides a standard transoral exposure.
The longuscolli, longuscapitis muscles and the anterior longitudinal ligament is transversely divided along the inferior border of the C1 arch.
The anterior capsule of the atlanto-axial joint is incised.
A 5mm periosteal elevator is used to distract the atlanto-axial joint
Assimilated anterior C1 arch is excised to expose the odontoid tip. This allows the anterior displacement of the odontoid when the atlanto-axial joint is reduced with posterior instrumentation
Posterior surgery: The posterior capsule of the atlanto-axial joint is excised and the joint distracted.
C2 pedicle screw and C3 lateral mass screw are used for cervical spine fixation.
The occipital plate is under-contoured such that when locked into the screws, its occipital portion remains slightly elevated from the occipital bone
Cantilever force is then applied to approximate the plate to the occiput. This maneuver allowed correction of posterior angulation of the odontoid thereby achieving reduction.
Morselized iliac crest graft is placed over the decorticated posterior elements.
Aftercare: Nasogastric feeding is commenced on return of peristalsis. Oral feeding is resumed after the pharyngeal wound healing, usually after 5-7th post-operative day.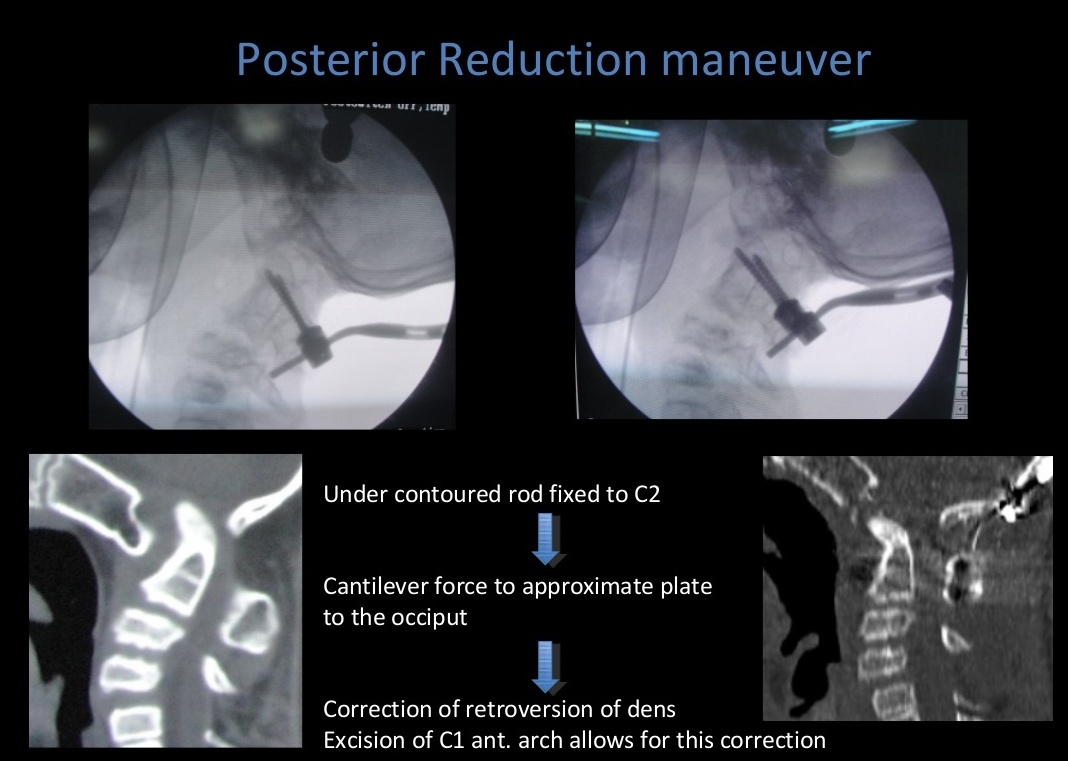 Advantages of transoral release over transoral odontoidectomy:
Technically less demanding.
No risk of CSF leak in the transoral approach
Lower approach related morbidity
Exposure require for transoral release is small than for odontoidectomy, which may require extended transoral approaches (palatotomy, maxillotomy)
Transoral release address the craniovertebral deformity. In consequence, subaxialhyperlordosis (which develops secondary to craniovertebral kyphosis) and torticollis (due to asymmetrically or rotatory dislocation) is corrected. These are not addressed in transoral odontoid resection as the mal-aligned facet joints are left unreduced.
Submitted by Dr Kshitij Chaudhary, Senior Consultant, Spine Surgery Division, Sir HN Reliance Foundation Hospital, Mumbai, India.
Kshitij Chaudhary is a fellowship-trained spine surgeon working in Mumbai, India. He has been trained in USA at Harvard University's Beth Israel Medical Center, Boston and Twin Cities Spine Center, Minneapolis. Special Interests: Degenerative spine disorders, Scoliosis and spinal deformity surgery, Minimally invasive spine surgery Spinal trauma, tumor, infections and Craniovertebral surgery
Dr Chaudhary can be contacted via, http://www.spinemumbai.in/