Tachdjian's Pediatric Orthopaedics: From the Texas Scottish Rite Hospital for Children
by John A. Herring MD (Author)
5 edition (December 19, 2013)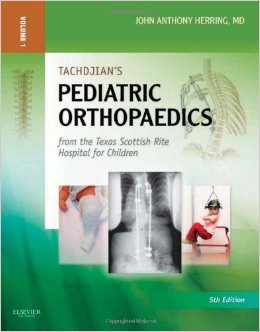 This edition provides one with the tools to effectively diagnose and treat a wide range of pediatric musculoskeletal disorders.This book provides unmatched expertise on etiology, imaging, differential diagnosis, and non-operative and surgical techniques of different paediatric orthopaedic conditions .
Expert guidance for management of all those challenging cases.
The world's foremost surgeons describe their preferred and most effective approaches for management of severe spinal deformities, hip impingement, early-onset scoliosis, and other pediatric musculoskeletal conditions.
2,500 full-color illustrations and 60 videos of pediatric surgical procedures gives one a visual guidance to perfect one's surgical prowess. Instructional videos demonstrating repair of bilateral dislocated hips, triple arthrodesis for planovalgus foot, patellofemoral ligament reconstruction, elbow arthroscopy, and more.
Access the full contents online at Expert Consult.