Clavicle fractures: Are we overtreating? 
Hitesh Gopalan U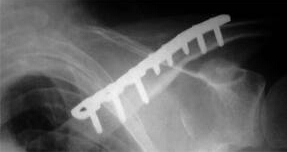 Editor, www.orthopaedicprinciples.com
In the Blog @ Orthopaedic Principles
It has been well described that we need to fix clavicle fractures that are open, those that are at risk for impending skin compromise, associated neurovascular injuries, floating shoulder. But the entire scenario changed when the COTS (Canadian Orthopaedic Trauma Society), RCT was published in 2007. The study concluded "Operative fixation of a displaced fracture of the clavicular shaft results in improved functional outcome and a lower rate of malunion and nonunion compared with nonoperative treatment at one year of follow-up". They added up indications like more than 2 cm shortening or displacement as yet 'another indication' for surgery. Now this is a level 1 study from a reputed group. And suddenly there has been a global explosion of clavicle surgeries. Every implant company has an anatomic plate for superior as well as antero inferior plating.
Leroux and colleagues,(JBJS A, July 2014), again from Toronto, looked at 1350 patients who were operated for clavicle fractures. One in four patients (24.6%) underwent at least one clavicle reoperation. The most common reoperation was isolated implant removal (18.8%).A reoperation secondary to nonunion, deep infection, and malunion occurred in 2.6%, 2.6%, and 1.1% of the patients after a median of six, five, and fourteen months, respectively. Incidence of major complications included nonunion (2.6%), deep infection (2.6%), pneumothorax, (1.2%), and malunion (1.1%). Risk of reoperation was increased in female patients and in those with major medical comorbidities. Surgeon inexperience was another risk factor for reoperation.
One of the authors of the COTS Trial, once said, that he gets calls from colleagues such as "I fixed an 87 year old lady with clavicle fracture, and she did not perform very well". The author says that this is a clear extrapolation of indications and one should not create "myownindications"( a precursor for myorthoindications.com) . What the COTS trial wanted to say was that you can justify operating a clavicle fracture in a young man with 2 cm or more displacement!! But probably the COTS never knew that they are gonna create "fixallclavicle" surgeons.
The study by Leroux is a must read for all surgeons who operate on clavicle fractures. It is imperative to understand that surgery for a clavicular nonunion is no different from surgery on an acute clavicle fracture and you can always treat a nonunion when u detect it. On the other hand you can always justify your surgery using the term "shared decision making", where you can discuss the pros and cons of surgery with the patient at lengths. !
Are you a Trauma surgeon? Write your comments below.
Ref
1. http://www.ncbi.nlm.nih.gov/pubmed/17200303
2.http://www.ncbi.nlm.nih.gov/pubmed/24990977