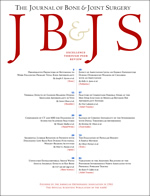 Adult Human Mesenchymal Stem Cells Delivered via Intra-Articular Injection to the Knee Following Partial Medial Meniscectomy A Randomized, Double-Blind, Controlled Study
C.Thomas Vangsness Jr.,MD, Jack Farr II, MD, Joel Boyd,MD, David T. Dellaero, MD, C. Randal Mills,PhD, and Michelle LeRoux-Williams, PhD
J Bone Joint Surg Am.2014;96:90-8 VOLUME96-A NUMBER 2, JANUARY 15,2014
http://dx.doi.org/10.2106/JBJS.M.00058
Level of Evidence: Therapeutic Level 1
Background: Partial meniscectomy is well known to be associated with accelerated degeneration of the knee. Various treatment methods are being studied in both clinical and pre-clinical set ups to improve the results of meniscectomy, which include improvements in repairing techniques, allograft meniscus and use of mesenchymal stem cells. Mesenchymal stem cells are from mesodermal origin capable of differentiating into bone and connective tissues with proven efficacy post meniscectomy in pre-clinical investigations.
Study design: multicentric double blinded level I randomized control trial Objectives: To study the effects of a single injection of human mesenchymal stem cells post meniscectomy in terms of i) safety ii) meniscus regeneration and iii) short term effects on osteoarthritis compared to a control group.
Methods: 60 patients were randomized to 3 groups on a 1:1:1 basis and 55 patients underwent the procedure. All patients underwent a subtotal meniscectomy (atleast 50% of the meniscus was removed). A single dose of allogenic adult mesenchymal stem cells (50 X 106 in group A and 150 X 106 in group B) was administered after 7 – 10 days following the surgery. The control group received sodium hyaluronate vehicle control.
Outcome assessment: Safety was assessed using clinical and laboratory evaluation and adverse events were classified according to the Cancer institute common terminology criteria for adverse events. Quantitative assessment of meniscal regeneration was performed by determining meniscal volume using MRI during follow up visits up to 12 months (> 15% increase in meniscal volume was used as a threshold criteria). Patient specific outcome measurements were also assessed using the VAS and Lysholm scores.
Results: No major adverse events requiring study termination or discontinuation were noted although there were minor 427 adverse events in 52 patients. 24% in group A and 6% in group B showed > 15% increase in meniscal volume at 12 months while none in group C showed any increase in volume. Progressive degenerative changes as evident by subchondral sclerosis and cyst formation was seen in 21% of patients in the control group, while it was only 6% in patients receiving mesenchymal stem cells. Pain reduction was significantly better in patients receiving mesenchymal stem cells compared to the control group as shown by the VAS measurements. The Lysholm score significantly improved from baseline in all patients but was similar across the groups.
Conclusions: This first randomized double blind controlled study supports the regenerative effects of allogenic human mesenchymal stem cells. High concentration of mesenchymal stem cells were safely injected into the knee joint without major adverse effects. The ability of the stem cells to significantly improve meniscal volume, the overall condition of the knee joint and improved pain relief in patients with osteoarthritis supports the use of human mesenchymal stem cells for their regenerative and protective effects.
Submitted by Ashok Sunil Gavaskar