Am J Sports Med. 2013 Oct;41(10):2340-6. doi: 10.1177/0363546513498998. Epub 2013 Aug 19.
Progression of osteoarthritis after double- and single-bundle anterior cruciate ligament reconstruction.
Song EK, Seon JK, Yim JH, Woo SH, Seo HY, Lee KB.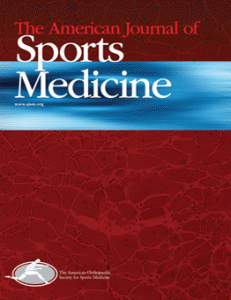 http://www.ncbi.nlm.nih.gov/pubmed/23959965
AIM: to evaluate whether double bundle ACL reconstruction has beneficial effects over single bundle ACL reconstruction in the prevention of OA of knee
STUDY DESIGN: level 2 randomized control trial
METHODS:
Population: 130 patients with ACL injury
Intervention : double bundle ACL reconstruction 65 patents (DB group)
Comparison: single bundle ACL reconstruction 65 patients (SB group)
Outcome measurements: radiographic evaluation using Kellgren Lawrence score, functional evaluation using Lysholm knee score, Tegner activity score & international knee documentation committee (IKDC) objective scale
RESULTS: 5 patients in the DB group (9.6%) & 6 patients in the SB group (10%) had more advanced OA at the final follow up. The difference was not found to be significant. All patients had similar Lysholm knee score, Tegner activity scores, similar stability testing using Lachmans test, pivot shift test & stress radiograph stability testing. Statistical significance was achieved only for the IKDC subjective scale (78.2% in DB group vs. 73.19% in SB group, p= 0.03).
CONCLUSION: the study finds that the DB technique does not offer any advantage in the progression of OA. There was a modest improvement in IKDC subjective scale in the DB group, but overall clinical outcomes & stability pattern were same after a minimum of 4 years of follow up.