Highly Crosslinked Polyethylene Does Not Reduce the Wear in Total Knee Arthroplasty:
In Vivo Study of Particles in Synovial Fluid
Pedro Hinarejos, MD, PhD, Ignasi Piñol, MD, Alberto Torres, MD, Eva Prats, MD, Gabriel Gil-Gómez, PhD, Lluis Puig-Verdie, MD, PhD
The Journal of Arthroplasty Volume 28, Issue 8 , Pages 1333-1337, September 2013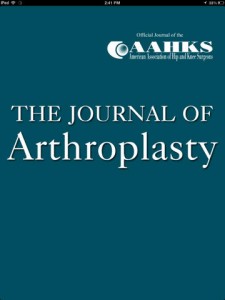 Level of Evidence: Therapeutic  level 2 Randomised Control Trial
Aim of the study
The study was aimed to verify the suggestion that there is reduction in polyethylene wear with highly crosslinked polyethylene as per studies in knee stimulators
Materials and Methods
Intraoperatively the use of conventional or a highly crosslinked polyethylene was assigned randomly.
A knee arthrocentesis was performed after "12 months" and the no, size and shape of polyethylene particles in the synovial fluid of 17 patients in each group was studied with the help of scanning electron microscope.
Results
The concentration,size or morphology of polyethylene particles between groups were found to have no significant difference.The invivo polyethylene wear depends on many factors and the type of polyethylene is not the most significant.
Ref:http://www.arthroplastyjournal.org/article/S0883-5403%2813%2900153-8/abstract